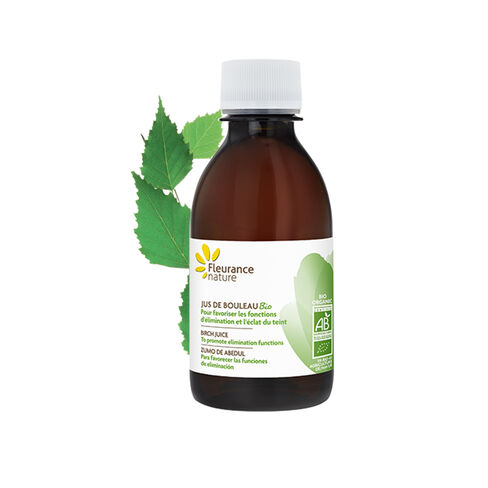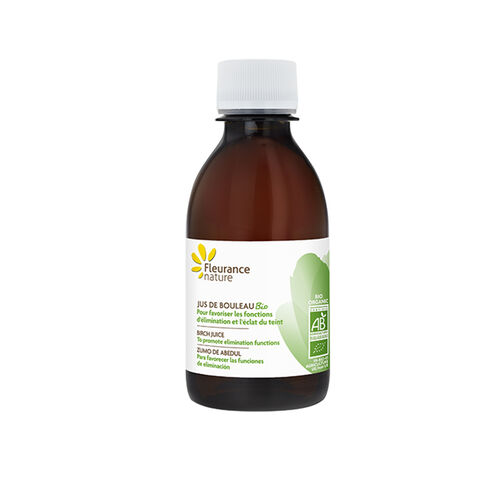 Made and controlled in France
Birch juice
Food supplement
200 ml bottle 6 jours
Pour favoriser les fonctions d'élimination et l'éclat du teint
Double action: draining and cleansing

Radiant complexion

Aqueous extract of birch leaves containing flavonoids

100% natural orgain, without any added sugar
Ingredients of natural origin
Complies with French and European regulations
A double action: draining and cleansing
Birch leaves are selected and known to promotove water elimination, general well-being and a radiant skin. Perfect for the changes of seasons or as a diet complement, birch juice purifies the organism and allows complexion to get all its radiance back!
Fleurance Nature selection

We chose birch leaves harvested in france by Sicarappam gatherers, agricultural cooperative of Auvergne region. This spinneret is certified organic and controled SOLIDAIRE by Ecocert.
Our birch juice is 100% natural origin and without added sugars: it contains an aqueous extract of birch leaves Betula pendula and concentrated lemon juice.
A concentrate of nature !
Birch is a tree coming from Nordic countries, and which belongs to the Betulaceae . It has been traditionally used for thousands of years, and consumed as leaves, buds, bark or sap.


Birch juice is consumed during a period of 3 weeks to 1 month.
Thininh can be obtained only with a diet with control of intake calories.

A slightly lemon taste

---
Qu'est-ce que la démarche solidaire ?
L'objectif est de préserver le tissu rural de proximité dans les pays développés grâce à une stratégie de développement durable par filière.
Elle apporte des garanties aux producteurs et aux entreprises :
Un engagement réciproque sur :
des prix minimums. Les prix sont calculés par les producteurs en intégrant leur coût de production afin de leur garantir un revenu stable, sans fluctuations ni spéculations.

des volumes et une durabilité du partenariat. Un contrat est établi entre les 2 partis pour une durée de 3 ans renouvelables. Cela permet aux producteurs d'anticiper les volumes et les revenus qu'ils auront sur les 3 années à venir et aux acheteurs de garantir un stock de matière première de qualité.
Au-delà des échanges commerciaux, le partenariat intègre également les divers besoins de la filière permettant ainsi de la pérenniser (aide sur les outils de communication, diffusion auprès du grand public).
Le produit fini est contrôlé solidaire par Ecocert Environnement selon le référentiel ESR qui évalue aussi bien la matière première que les conditions de travail des cueilleurs selon des critères bien définis.
Dietary advice :
Take 3 times 10 ml (or 30 ml) diluted in a big glass of water during the day, for 6 days.
renew it during 3 weeks and/or for each season change.
To optimize the elimination functions of the organism, we recommand to decrease the intakes of animal fats and too salted food. Increase your daily consumption of vegetables and fruits.
Advice to drink 1,5 litre of water per day.
Shake well before using (or a deposit can appear).
Thinning can be obtained only with a diet controling the calories intakes.
Precautions for use :
After opening, keep it imperatively in the refrigerator and consume within 15 days.
Food supplements must be used in a healthy way of living and a varied and balanced diet.
Keep away from children.
respect advised doses.
Not recommended for pregant or breast feeding women.
Not recommended to people allergic to derived salicylates.
Per 30 ml :
Aqueous extract of birch leaves*(1) Betula pendula France origin 29,7g, concentrated lemon juice*.
*100% of agricol ingredients come from an organic production process.
(1)Ingredient coming from fair trade, 90,9% of agricol ingredients come from fair trade. Faire trade controled by Ecocert Environnement according to ESR available on www.ecocert.com