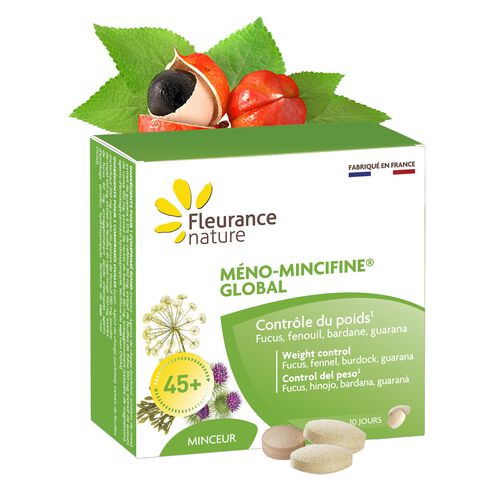 Made and controlled in France
Meno-Mincifine® global
Food supplement
Box of 30 tablets 10 days
Global slimming action for women over 45 years old
5 slimming actions

Weight control, fat metabolism, elimination, digestion, circulation

24-hour action based on chronobiology

Weight control targeted for women 45+
Ingredients of natural origin
Complies with French and European regulations
Description - Meno-Mincifine® global
In women over 45 years old, the hormonal changes associated with the menopause cause the metabolism to slow, resulting in a tendency to gain weight around the abdomen. MÉNO-MINCIFINE® is based on the principles of chronobiology (biorhythms), delivering nutrients which the body specifically needs every morning, lunchtime and evening.
The circular tablet (morning) is a blend of active ingredients designed to combat water retention:
Burdock increases the elimination of water and facilitates digestion.
Cherry stalks and ash leaves are known to facilitate the body's elimination functions.
Red vine contributes to good circulation in the legs, which promotes effective drainage.
The oval tablets (lunchtime and evening) combine a number of additional active ingredients:
Fennel contributes to the elimination of fluids through urination.
Guarana, which contains caffeine, is used within weight control.
Fucus is an algae that also promotes weight control.
Artichoke and nopal (prickly pear) complete the action of this formula.
Take 1 circular tablet at breakfast, 1 oval tablet after lunch and 1 oval tablet after your evening meal for 1 month, in line with your requirements.
PRECAUTIONS FOR USE :
Food supplements must not be used as a substitute for a varied and balanced diet.
Keep out of reach of children.
Do not exceed the recommended daily dose.
Pregnant or breastfeeding women should seek medical advice before taking this product.
Weight loss can only be achieved as part of a calorie controlled diet.
Store away from heat.
Contains traces of iodine.
Ingredients
per circular tablet :
Anti-caking agents (microcrystalline cellulose, magnesium stearate, silicate), red vine leaf extract 100 mg, ash leaf extract 100 mg, cherry stalk extract 100 mg, burdock root extract 80 mg, coating agents (Hydroxypropyl starch ,non-GMO soy lecithin).
per 2 oval tablets :
Bulking agent (sorbitol), artichoke bract (leaf) extract 200 mg, guarana extract with 12% caffeine 160 mg, nopal powder 160 mg, fennel seed powder 100 mg, fucus powder 60 mg, coating agents(Hydroxypropyl starch ,non-GMO soy lecithin), anti-caking agent (stearic acid).
Contains traces of iodine.
Contains cafeine (19.2 mg for 2 oval tablets)
This product has not been tested on animals, in accordance with European regulations.
This product is suitable for vegetarians (vegans).
Plants and natural actives
Our actives for the best results