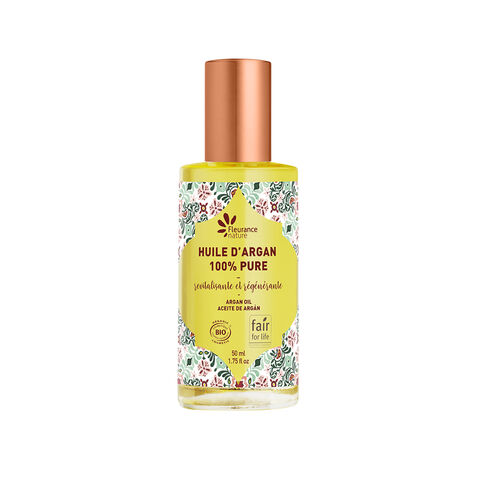 Made and controlled in France
100% pure argan oil
Organic cosmetic
50 ml bottle
The Moroccan secret beauty tip for the face, body and hair
Hydrates* and beautify skin, hair and nails

100% pure oil, and cold-pressed

Non refined, undeodorized, unscented

Certified Organic and attested Fair trade
Ingredients of natural origin
Complies with French and European regulations
Description - 100% pure argan oil
Argan oil, a real cosmetic treasure
Used by Berber women for centuries for its exceptional cosmetic properties, Argan oil works wonder! Our 100% natural Argan oil is cold pressed, unrefined, undeodorized and unscented in order to get an optimal preservation of its properties.
Argan oil is packed with Omega-6 fatty acids and vitamin E, antioxidants that are recommended to prevent from premature skin drying.
Acting as a kind of cellular cement, it delays natural skin aging and restores the skin's radiance by improving hydration*.
Recommended to regenerate tired skins.
May also be used to nourish and restore a gloss to hair, and to strengthen nails.
*Hydration of the upper layers of the skin.
The choice of a FAIR TRADE Argan oil
Huile d'argan bio-équitable
In Morocco, the exploitation of the Argan fruit is made exclusively by women. They manually make the very delicate and fiddly work of pulping and crushing the fruit, to allow the obtention of the precious oil.
Equitable
Fleurance nature chose to sustain the work of these women, by getting its supplies of ORGANIC Argan oil from EFAS, which is the feminine and rural firm of social economy (in French: Entreprise Féminine Rurale d'Economie Sociale). Fleurance nature committed with this local firm in a fair trade approach, controled by ECOCERT Environnement according to the reference ESR**.
EFAS is a partner of the Humanitarian association « AL MAHABBA » which goes on the ground in the mountains, in order to identify the needs of the "Argan women", and to define the projects that must be financed to develop their villages.
** Fair, Joint, Responsible (Equitable, Solidaire, Responsable)
For optimal effectiveness, apply to skin or hair that is slightly damp.

Apply undiluted or mixed with your regular skincare product, and gently massage in until fully.

Pure Argan oil fom Morocco 100% Organic and Fair trade.
Ingredients :
ARGANIA SPINOSA KERNEL OIL
100% of the total ingredients are from Organic farming and fair trade
Ecological and Organic cosmetic certified by ECOCERT Greenlife according to the reference ECOCERT available on http://cosmetiques.ecocert.com. Fair trade contoled by Ecocert Environnement according to the reference ESR (Equitable Solidaire Responsable) available on www.ecocert.com
Questions - Answers - 100% pure argan oil
1. What is argan oil ?
The argan tree, which produces argan oil, grows on the Souss Plain in Southern Morocco. This oil has been used for centuries by Berber women for both its dietary and cosmetic properties. Argan oil is produced exclusively by women. They use ancestral methods to extract the almonds contained in the kernels of the fruit of the argan tree. The almonds are then crushed and transformed into a paste to obtain argan oil.
2. How is argan oil used ?
Argan oil has many nutritional and moisturising properties. Pure, organic argan oil can be used as follows: As a moisturiser for the body, face or nails, As a nourishing hair treatment, before or after shampooing, As a massage oil for a moment of relaxation, As a skin care product during pregnancy to soften and smooth stretched skin, As a finishing treatment for the beard after shaving.
3. How do you apply pure, organic argan oil to the hair?
Argan oil is used in particular to make the hair softer, silkier and shinier. It also prevents split ends in the long term. Add a few drops of argan oil to a small quantity of shampoo once a week, and use this to wash your hair
4. How do you apply pure, organic argan oil to the skin?
Argan oil contains a wealth of omega 6 and 9, antioxidants and vitamin E. These active ingredients bestow it with moisturising, soothing and also anti-ageing properties. Used as a massage, it quickly penetrates the skin, leaving it soft and supple from the first application onwards. It also helps to combat signs of skin ageing by activating cell regeneration and restoring the skin's hydrolipid film
5. How do you apply pure, organic argan oil to the nails?
Argan oil helps to strengthen split, soft or brittle nails. Nourish and strengthen your nails by regularly immersing them in a bath of argan oil. Choose a pure, organic argan oil to fully benefit from its preserved properties.
6. How do you recognise a quality argan oil?
Quality argan oil is a pure, organic, unrefined, non-deodorised and unscented argan oil obtained by cold extraction. These characteristics preserve the properties of argan oil. Fair trade Argan oil is now used in all of our cosmetic products.