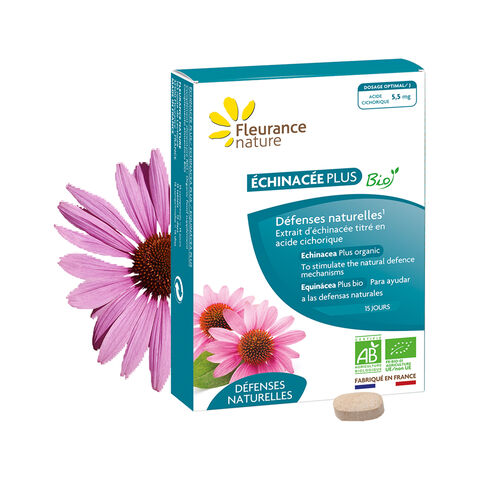 Made and controlled in France
Echinacea PLUS
Food supplement
Box of 15 tablets 15 days
To preserve the body's natural defences
Helps to combat the discomfort associated with colds

Combination of the aerial parts and roots of purple echinacea

Guaranteed cichoric acid content

Ideal for the changing seasons
Ingredients of natural origin
Complies with French and European regulations
Description - Echinacea PLUS
To prevent minor winter ailments!
Purple Echinacea is an adaptogen, i.e. it increases the body's ability to adapt to different environmental factors and boosts its resistance. This plant helps to stimulate the natural defences in case of general weakness and fatigue and to fight against the discomfort linked to colds. It is recommended in particular when the seasons change but can also be used at other times throughout the year, especially during the winter months.
A top quality echinacea:
Our ECHINACEA PLUS is a combination of the aerial parts (above soil) and roots of purple echinacea (Echinacea purpurea) obtained in accordance with organic production methods. This allows the beneficial properties of each part of the plant to be used to maximum effect. The Echinacea we have chosen provides a guaranteed content of the plant's active substance, namely cichoric acid.
Why choose Fleurance-Nature Organic Echinacea PLUS?
1 tablet provides the equivalent of 600 mg of the aerial parts of echinacea and 300 mg of roots, of which 5.5 mg cichoric acid. Proven efficacy of echinacea. To prevent chills: Numerous studies featuring echinacea have shown that this adaptogen can reduce the risk of catching a cold by 10 to 20% (1). Shortens the durations of colds: According to scientific studies, using echinacea when you have a cold can reduce the duration of that cold by 1.44 days on average(2).
Take one tablet at breakfast with a large glass of water.

Take for 1 to 2 months
Precautions for use :
Food supplements must be used as part of a healthy lifestyle and a varied, balanced diet.
Keep out of the reach of children.
Take as directed.
Not recommended for pregnant or breast-feeding women and children under 12 years of age.
Ingredients
Per tablet: Extract of the aerial parts of echinacea (Echinacea purpurea)* 400 mg, echinacea root powder (Echinacea purpurea)* 300 mg, rice starch*. *100% of ingredients of agricultural origin are obtained in accordance with organic production methods.
This product has not been tested on animals, in accordance with European regulations.

This product is suitable for vegetarians (vegans).