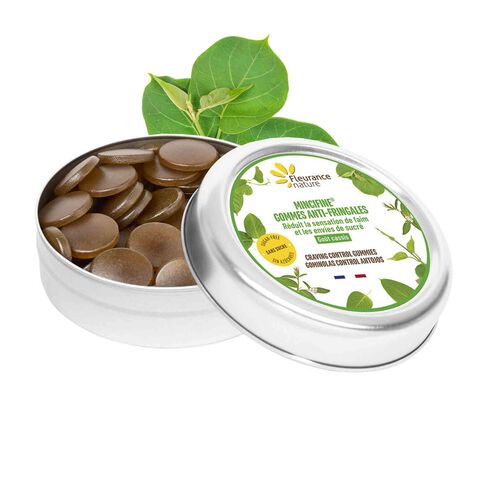 Made and controlled in France
Mincifine® craving control gummies
Food supplement
With sweetener. Box of 80g Take whenever required.
Gummies with 3 slimming actions
Action 1: reduces sweet cravings

Action 2: reduces hunger pangs

Action 3: helps maintain normal blood glucose levels

Sugar free - blackcurrant flavour

Practical format, easy to take with you when you are out and about
Ingredients of natural origin
Complies with French and European regulations
Description - Mincifine® craving control gummies
Curb snacking!
After every meal, specific receptors inform your brain that your stomach is full and that you are no longer hungry. By snacking, you are giving your body small quantities of food throughout the day, which then disrupts the information sent to your brain. This leads you to eat more without feeling "full". Often containing fats or sugars, snacks are public enemy No. 1 for any type of diet!
MINCIFINE® ANTI-SNACKING GUMMIES are a food supplement containing sweeteners. These gummies are your ally when you are following a slimming programme. Their 3 slimming actions help you to overcome your craving for snacks throughout the day.
ACTION 1: REDUCES THE CRAVING FOR SUGAR
Thanks to its gymnemic acid content, gymnema can reduce sugar craving by binding to the taste buds on the tongue. Thus the perception of sweetness changes considerably, helping us to resist the temptation to snack.
ACTION 2: REDUCES HUNGER PANGS
Gymnema also reduces hunger pangs. This is also a mechanical response. Indeed, many studies have shown that chewing and suction are factors in satiety. Gently chewing or sucking a gummie will reduce the desire to eat and cravings disappear.
ACTION 3: HELPS TO MAINTAIN NORMAL BLOOD GLUCOSE LEVELS
Chromium helps to maintain normal blood glucose levels. Hunger pangs are caused by reduced glycaemia (glucose levels in the blood). Our ANTI-SNACKING GUMMIES reduce hunger pangs by maintaining normal blood glucose levels between meals thanks to chromium.

Tryptophan, a metabolic precursor of serotonin, a hormone involved in dietary patterns, rounds off this formula.
With the flavour of blackcurrant and this practical format, you can easily take them with you when you are out and about. They should keep you on track!
Gently suck one gummie when you fancy a snack. Do not exceed 5 gummies per day.
Precautions for use :
Food supplements must be used as part of a healthy lifestyle and a varied, balanced diet.

Keep out of the reach of children.

Take as directed.

Not recommended for pregnant or breast-feeding women, children and diabetics.

Excessive consumption may have laxative effect.

May contain traces of egg, nuts and wheat.
for 5 gummies : Acacia gum, sweeteners (sorbitol, maltitol, steviol glycosides extracted from stevia, sucralose), tryptophan 220 mg, gymnema sylvestre leaf extract 96 mg, blackcurrant flavouring, coating agents (hydrogenated coconut oil, carnauba wax), chromium picolinate (chromium: 25 µg i.e. 62% of nutritional reference values).
Food supplement with sweeteners
This product has not been tested on animals, in accordance with European regulations.
This product is suitable for vegetarians (vegans)