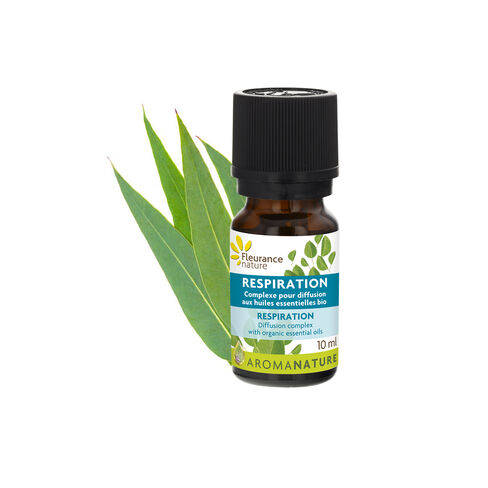 Made and controlled in France
Respiration diffusion complex
Other
10-ml glass bottle
To promote respiratory well-being
Ideal for those first cold snaps

A combination of 10 x 100% pure, ORGANIC essential oils

Essential oils with the EOBBD (Essential Oil Botanically and Biochemically Defined) guarantee

Can be diffused at any time of day
Ingredients of natural origin
Complies with French and European regulations
Description - Respiration diffusion complex
Thanks to a combination of 10 organic essential oils, the RESPIRATION diffusion complex helps you to breathe more easily and cope with cold spells. It mainly contains essential oil of eucalyptus globulus, lavandin, niaouli, cypress and Scots pine.
All of the essential oils used in our diffusion complexes have the EOBBD guarantee: Essential Oils Botanically and Biochemically Defined.
EOBBD stands for Essential Oils Botanically and Biochemically Defined. In botanical terms, this means that the plant-producing organ generating the essential oil, the precise Latin botanical name and the country of origin are defined. In biochemical terms, the plant chemotype is fully defined by means of chromatography (laboratory analysis of ingredients), which is carried out for each new batch of essential oil.
This label also specifies that the essential oil is 100% pure and natural.
For small surface areas or cupboards, place a few drops on a pebble diffuser

For larger rooms, use a ventilation, spray or spray diffuser

Do not diffuse for too long to avoid saturating the atmosphere (20 to 30 minutes depending on the size of the room)
Precautions for use :
Keep out of the reach of children.
Do not apply to the skin and do not swallow.
Do not burn essential oils.
Do not use in the presence of pregnant or breast-feeding women or children, and allow an interval of thirty minutes before allowing them back into the room in question.
Hazard : Inflammable liquids and vapours. Keep away from heat, sparks, naked flames and hot surfaces. Harmful if swallowed. May case a skin allergy. Use vegetable oil to rinse the skin or mucosa. May be fatal if swallowed and enters airways. May cause skin irritation. If swallowed, contact an anti poison centre or doctor immediately. If the product comes into contact with the skin, wash thoroughly with soap and water. Do not eat, drink or smoke when handling this product. Very toxic to aquatic life. Causes long-term harmful effects. Do not dispose of into the environment. Dispose of contents in accordance with current legislation.
Essential ORGANIC oils of eucalyptus globulus, lavandin, niaouli, tea tree, common cypress, rosemary, cajeput, ravintsara, Scots pine and thyme.
INGREDIENTS : EUCALYPTUS GLOBULUS LEAF OIL*, LAVANDULA HYBRIDA HERB OIL*, MELALEUCA VIRIDIFLORA LEAF OIL*, MELALEUCA ALTERNIFOLIA LEAF OIL*, CUPRESSUS SEMPERVIRENS LEAF/NUT/STEM OIL*, ROSMARINUS OFFICINALIS FLOWER OIL*, MELALEUCA LEUCADENDRON CAJUPUTI LEAF OIL*, CINNAMOMUM CAMPHORA LEAF OIL*, PINUS SYLVESTRIS LEAF OIL*, THYMUS VULGARIS FLOWER/LEAF OIL*.
*Ingredients obtained using organic farming methods.
This product has not been tested on animals, in accordance with European law.
This product is suitable for vegetarians (vegans).